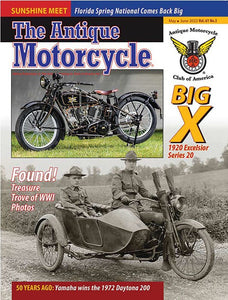 In the May/June issue, you'll get:
 
- Our report from the Sunshine Chapter's Spring National Meet in Florida.

- Newly rediscovered National Archives photographs of America's motorcycles in World War I. 

- A 1920 Excelsior V-twin feature bike, including a look back at company news from the era.
- A celebration of AMCA member Don Emde's win at the 1972 Daytona 200
- Plus your 2022 Membership Sweepstakes Information and Recruiting Cards are located on Page 34.