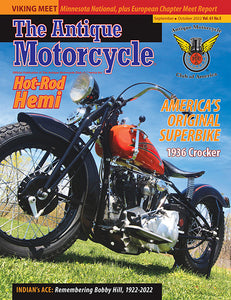 In the September/October issue, you'll get:
 
- Remembering Indian "Wrecking Crew" racer Bobby Hill, who passed away this summer at age 100.

- Exhibit A feature story on the ninth Crocker V-Twin ever made, a freshly restored 1936 "Small Tank.". 

- Showtime x 2: AMCA Meet reports from Minnesota and the Netherlands.

- America's first roadside guideposts, erected by B.F. Goodrich starting in 1910.

- Plus much more.