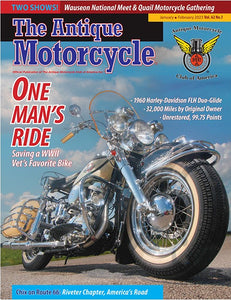 In the Jan/Feb issue, you'll get:
Wauseon Meet report, featuring AMCA co-founder Emmett Moore's 1930 Indian 101.

• Quail Concours: Club members take trophies at the West Coast's premier bike show.

• Preserving a World War II veteran's favorite Harley-Davidson FLH Duo-Glide.

• "Chix on 66": The AMCA's Riveter Chapter goes cross-country on Old Route 66.
• Plus much more.