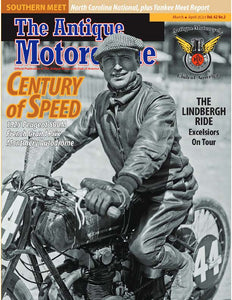 In the Mar/Apr issue, you'll get:
Southern Meet report, featuring a 1951 Indian Chief, 1956 BSA A10, 1957 Harley Sportster and 883 Enduro, 1969 Norton Commando, and 1981 Kawasaki KZ1000 K1 LTD
Indian Papoose / Corgi, From spy bike to civilian runabout.
French For Fast: The Montlhery Autodrome.
Looking For Lindy: Retracing Charles Lindbergh's 1921 Cross Country Ride.
Heirloom Excelsior: Lindbergh's Big X and the AMCA connection.
 Plus much more.