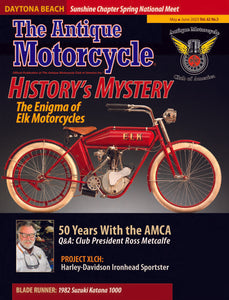 In the May/June issue, you'll get:
AMCA President, Ross Metcalfe celebrates 50 Years with the club.
Enigma on wheels: Tracking down the elusive history of the 1914 Elk. 
Sunshine Spring National Meet report from Daytona Stadium.
Across America on a 1940 Zundapp in the Cross Country Chase.
1982 Suzuki Katana: 40 years later and still stylistically shocking.
Plus much more.